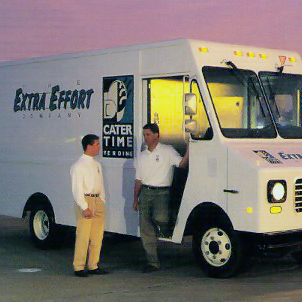 Finally, now You can have Freshly Stocked, State of the Art Vending Machines at YOUR Location!
If you are looking for a company that can provide all of your vending needs, you are at the right place.  Cater Time Vending has been in the vending business for over 50 years.  We are known as The Extra Effort Company and we put forth that extra effort to make it easy for you to get the right mix of vending machines and products for your location.
 Our Process is as Easy as 1-2-3
Fill out our Contact Page by clicking here or just pick up the phone and call us at:816-454-7700 and someone will be happy to discuss your needs with you.
After the initial contact one of our representatives will visit you at your site to assess your needs and wants.  They will also do a site assessment to ensure the equipment is sized properly to meet the demands at your facility.  This will include location, power requirements and space available.
We get you set up with the right size machines with the right mix of products to fulfill your vending needs.  Plus, we keep your machines stocked with fresh product on a regular basis.
---
All that is left is action on your part to get the ball rolling.  Call us at:
(816)454-7700
or use our convenient contact form by CLICKING HERE.
BRANDS YOU
From healthy treats to chocolate indulgences, we carry it all.